Schedule Your Strategy Session
Free 30-Minute Consultation For Boat & Yacht Sales Professionals
Vincent Finetti Opens Private Schedule To Help 5 Growth-Focused, Revenue-Hungry Marine Sales Professionals​
Dear Marine Sales Professional,
Each year, I fly the equivalent of 6 times around the world and I attend a dozen international boat shows… all while managing my 3 marine-sales related companies. Fact is, I'm extremely busy — despite this, there is one thing I like to keep in my calendar for sales professionals like you.
You see, in order to stay connected, to learn, and to give back, each week I open my Private Schedule to a few pros — just 5 to be exact — who I can help transform into highly-paid marine sales professionals.
That's 5 sales pros who want some 1-on-1 help selling more boats AND who have the drive to join my growing list of client results.
Are YOU that professional?
If so, then I invite you to read this page right now.
Because it outlines how a 1-on-1, 30-Minute Strategy Session with me can help you achieve your sales goals. And, after you've read this page, if you feel this is right for you, then submit the application below to schedule our call.
But do it today — because my Private Schedule is only open this week to the first 5 who qualify.
To your success,
Scored Two "Big League" Listings After Speaking To Vincent
"Speaking with you must have been the trick — have gotten 2 quality listings in the last week, in the big leagues!"
Here's How This Strategy Session Works
Simply, this Strategy Session is a 1-on-1 consultative call with me.
We get on the phone and go over your marine sales business. Specifically, I take a look at where you are now, what you're currently doing, what your biggest sales obstacles are, and what you want to achieve going forward.
Then, once I know about you, I may suggest — if it seems appropriate to your situation — my approach to helping you go from where you are now, to becoming a highly-paid marine sales professional.
There's no charge for this and it only takes no more than 30 minutes for us to do together.
At the end of this initial planning session 1 of 2 things will happen:
1) You'll love my guidance… and you may ask me to further help you close more showings, more sea trials, more clients… so you can make more money.
2) And in the unlikely event that you don't love our Strategy Session, you don't owe me a thing.
It really is that simple and there's no catch.
The "worst" that can happen is that you get to leverage my boat sales expertise, knowledge, and insight to tackle your biggest sales-sticking point… for thirty-minutes — at no cost.
And the best that can happen is that you are now on your way to growing your sales revenue over the coming months and beyond.
This Is Not For Everyone — Here's Who I Can Help
In order to give you the results I promise, I must be selective about who I'll help one-on-one. And so, I have a strict (yet reasonable) set of criteria for us to go ahead.
And so, for me to realistically help you improve your boat sales: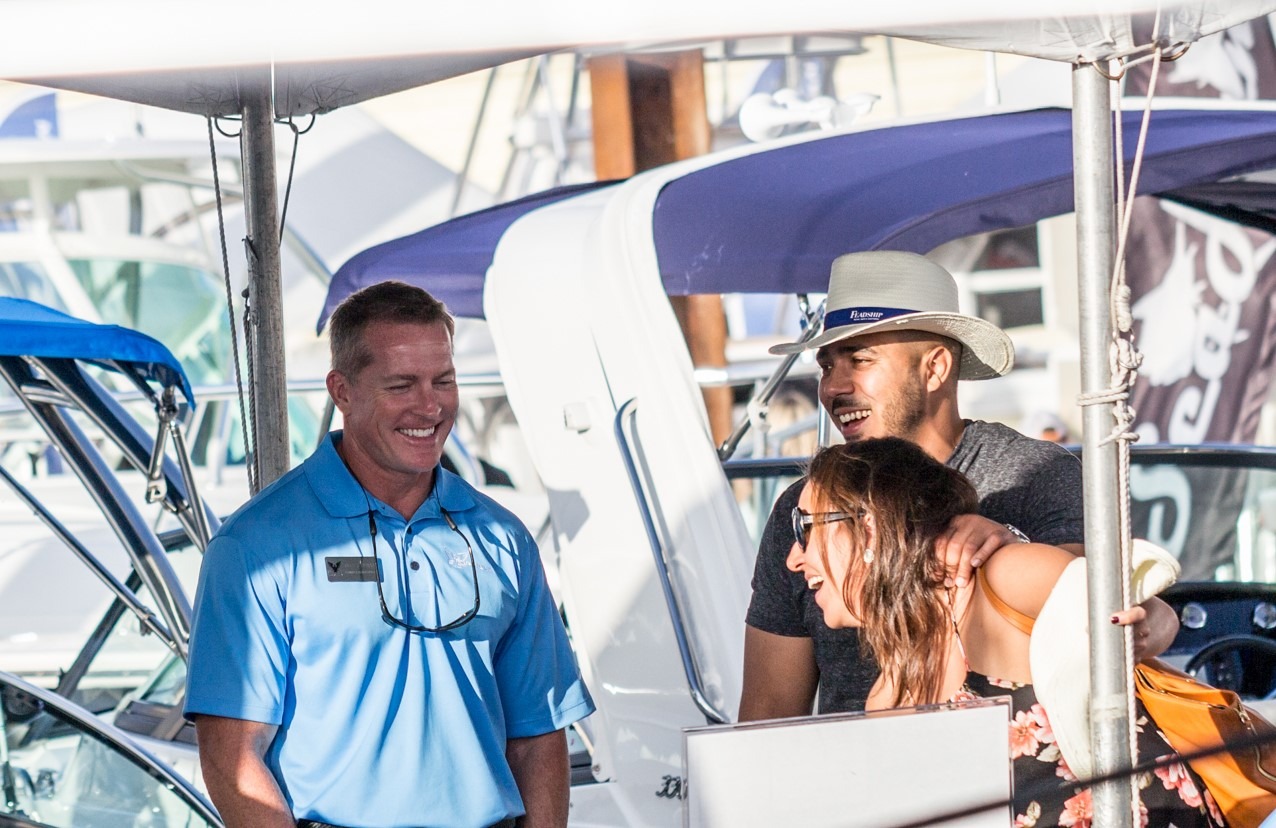 Criteria #1: You must be growth-focused, and revenue-hungry.
First, this session is meant for the sales professional who is already up and running AND who has the focus and desire to earn more money.
Criteria #2: You must have listings and lead flow.
Second, you're already actively promoting (on Multiple Listing Sites, Social Media, and/or paid advertising) and you're getting leads, showings, sea-trials and some offers — but they're not turning into sales as often as you'd like.
Criteria #3: You must have a list.
Third, if you want to become a highly-paid marine sales professional you need a network — a list of ~300 friends, clients, colleagues, and followers (social media, email, CRM, etc.).
That's it! If you meet these criteria, then I can help you one on one.
Over $15,000,000 In Sales
"Some big, some small, since Vincent and I started talking I've done over $15m in sales."
Meet The Criteria? If So, Here's What I Want You To Do Next
If you meet the criteria above, and you want to go ahead with this Strategy Session, then I'll set aside some time to personally help you boost your marine-sales income. To get started, carefully read over the following information before you apply.
Here's how the 3-Step Application Process works:
Step 1: Complete the Strategy Session application (provided below). I just need to know a few things about you to get an idea of what you want to accomplish, and so forth.
Step 2: Then, I'll review your application. And if you seem suitable, we'll talk at our scheduled time. However, if the Strategy Session doesn't seem like it's right for you, I may not go ahead with the session (if this happens I'll notify you by email).
Step 3: Show up for the Strategy Session at the time you requested. (Note: 24-36 hours after reviewing your application, I'll send you a confirmation email which includes all of the call details.)
Still interested in booking a Strategy Session with me? If so…
Complete The Strategy Session Application Below